A wildlife adventure in the heart of the world's oldest rainforest!
The Daintree Rainforest is approximately 180 million years old, making it the oldest rainforest on the planet! Most rainforests are pretty inhospitable, but the Daintree is unique in that it is accessible and able to be explored by the everyday tourist! One of the many activities available at the Daintree rainforest are the popular "Daintree River Cruises" to spot some of Queensland's best wildlife!


Normally, you wouldn't want to get too close to the water's edge out of fear of being snapped up by a crocodile. However, the river cruises allow you to explore the normally inaccessible mangrove habitat. In this blog, we're going to tell you all you need to know about the Daintree Crocodile cruises, which offer the unique opportunity to get up close and personal with wild saltwater crocodiles and other wildlife in their natural habitats!
Most of the river cruises depart just before the River Ferry Crossing, making it an excellent stop if you're on your way to the Daintree! It is about a 1 hour drive from nearby port Douglas and 2 hours from Cairns. There is a conveniently located and free parking/rest area right next to where the majority of the river cruises depart. Be sure to check on the exact address of your tour for the exact location!

There are a variety of river tours to choose from, depending on your interests and budget. Most of the tours are simple, hour-long river cruises. They tend to be larger boats with the capacity for more people. They are great if you want to sit back, relax, and spot some crocodiles sunbathing on the riverbanks.
Other tours are more specialized. They tend to offer a more intimate experience and have smaller boats that can explore narrower, more remote areas of the river that would be inaccessible by a larger cruise. Because of this, you have a greater chance of getting closer to some of the wildlife! Regardless of your tour size, you'll surely be going with someone who is knowledgeable about the Daintree river and its inhabitants!

The price of the tour really depends on what you want to do. The majority of the river cruises run from about $20-30 Australian Dollars per adult. Oftentimes these will also let you board again and again for a period of time; some as long as a month! So, you'll get a lot of bang for your buck!

The more specialized tours tend to run from $50-60 Australian Dollars per adult. Most are only good for a single ride, but they tend to be longer and go off the beaten path to be sure you get your wildlife fix. Personally, I did a smaller tour and thought the extra cost was entirely worth it!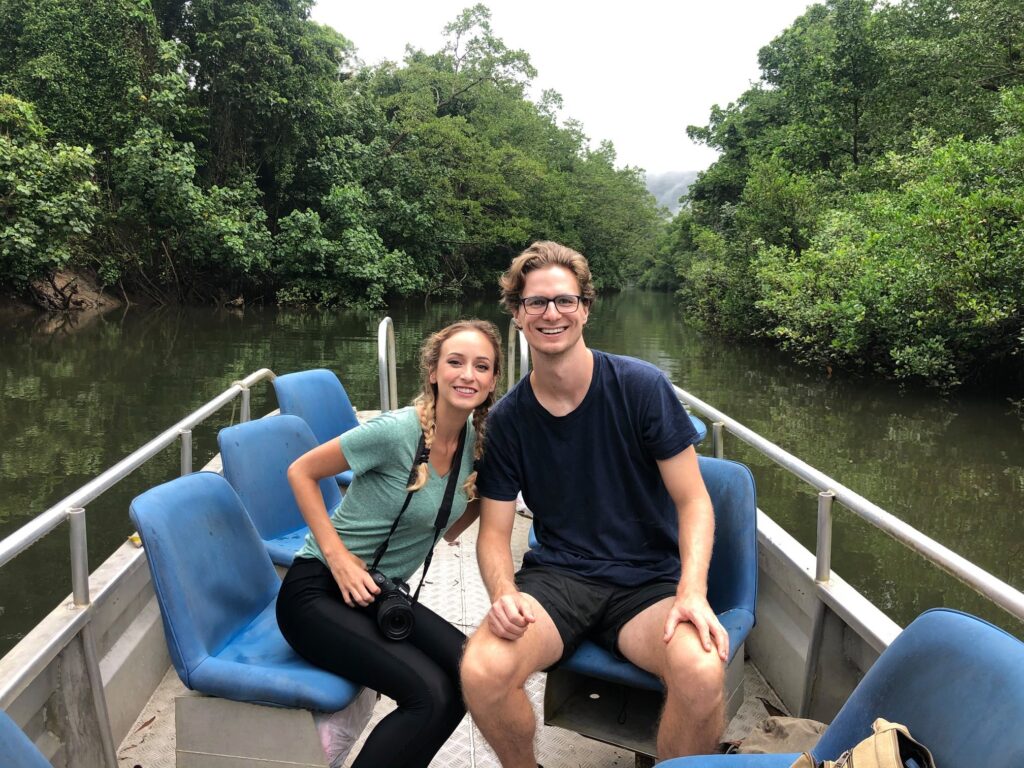 Here are a few of the available tour options that we have compiled. These are not affiliate links or sponsored, just a list of tours we considered for our own trip. There are other options available, so be sure to do your research to find what experience would be best for you!
A bag
Water
Sunscreen
A camera (preferably one with zoom!)
Bug repellent
Poncho/rain jacket and waterproofing for electronics if the weather is questionable
We are very interested in nature and wildlife (and Tropical North Queensland has been fantastic for it!). So we opted to do the Mangrove Adventure Tour with Dan Irby. He is a research scientist with about 30 years of experience running these cruises. He was a great host and knew exactly where to locate many of the plants and animals and was extremely informative.


We were the first tour that Dan had done in several months following the Covid-19 shutdown. The river was empty and quiet. Despite the recent rainy and cool weather that kept most of the animals in hiding, we still got to see some really amazing wildlife! We spotted quite a few saltwater crocodiles-including a large male, birds, snakes, and more!