Mt. Fuji > Kyoto > Nara > Osaka > Kobe > Himeji
After Tokyo, we saw a whole lot more of Japan, and we were very lucky to have Alan's mom join us for a THIRD trip!!
This would be WAY WAY too long if I got into too much detail. I would love to get back into more frequent posts, but I feel like the videos just take up so much bandwidth. (Although, they are admittedly a way better documentation tool). So again, here's a quick summary of the things we did and highlights!
We explored Tokyo a few more days – visited the shrines, a cat cafe down the street, and I won my first claw game!! (A little cat, of course!) We got to stay near Roppongi for the first time, which was new for us! I spent a lot of time finishing up some editing, while Alan gave his mom her intro to Japan!


Visited Tokyo Disney and DisneySea! DisneySea is seriously… Just wow. It did not lose a bit of its magic. And our friends Wyatt and Reyka came to DisneySea with us too. What a blast! (An exhausting one, but still so fun!! lol)


We biked all around Lake Kawaguchi during the peak fall season. We literally sprinted to catch our bus there, had the most amazing accommodations in Kawaguchiko (an entire old hostel!), stopped by a sweet potato farm, saw the most beautiful shrines, and took in all the views of Mt. Fuji!

 

Traveled to Kyoto (after having to head back to Tokyo first) by Shinkansen (Japan's bullet train), had a funny fish cake incident, and spent a few days visiting shrines, the old Gion district, bamboo forest, & the monkey park!

 

Traveled to Nara, the city known for its bowing deer. We loved visiting their cultural center, feeding the deer, and the beautiful shrines – one with a giant Buddha. & I mean giant! I think Nara was my fav spot on this trip!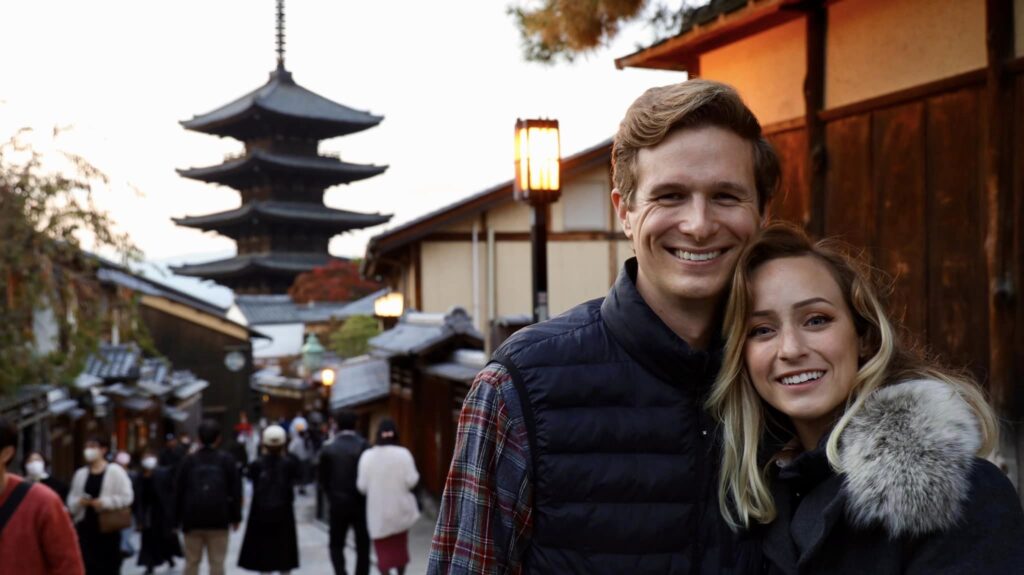 From this point, our hard drive failed, so as of re-archiving this into the blog in September 2023, we have not yet been able to recover these files. We're holding on to hope though!
Spent a few days in Osaka. Stayed right by the hectic Dotonbori St, saw all of the main tourist sites, tried tons of food (wagyu sushi being a standout!), and wished we got to spend more time getting to know Tokyo's "grungy sister". Lol

 

Celebrated Thanksgiving in Kobe… by eating a little too much Kobe beef prepared by chef Alan! Also, they had an amazing cable car and garden! The tower was under restoration though.

 

Checked out Himeji & Himeji castle… and their gorgeous garden in a heavy rainstorm. We were tired by this point; it was nice to take it easy somewhere!
Then we saw Alan's mom off on her trip home (to her adorable new guide dog puppy!!) before heading to our final spot in Japan for a few days! We're lucky to have been able to have seen so much and have her with us to experience everything. Our final city I'll put in the next post!