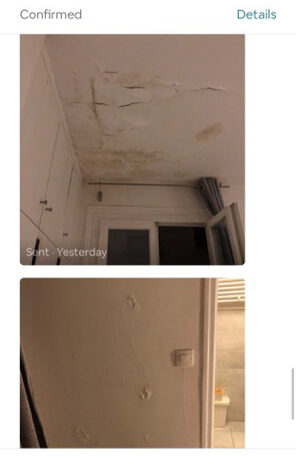 Just another Airbnb horror story...
Our second stay here in Paris started off really bumpy… it was SO creepy, and as the night unfolded, I legit thought we might get murdered for a second there. lol.
Our day of transit was easy enough, but when we got to our Airbnb in the late evening… and realized our host had greatly misled us and failed to disclose the condition of the unit they were renting. We're pretty easygoing, but this place was a dump. 
To enter, we were forced to sign some digital "contract"… saying that by staying here we agreed to all of these ridiculous terms and fees. 1200€ if we lost the key (at the time, this was nearly $1400 USD), 600€ if we damaged furniture, another unreasonable fee if the fire alarm went off… the list of insane fees and rules went on. And when we checked out, he wanted us to leave this $1400 key unsecured under a mat?! Wait… what? I didn't agree to any of this. 

This was not mentioned on Airbnb at all… it seems sketchy at best, a scam at worst. Was definitely giving me scam vibes. I was having some doubts about this but did not want to fuss with trying to change Airbnbs on this alone. Plus, I doubt he could follow through on getting money from us beyond what we paid on Airbnb.
Then we got access, and the moment we opened the door, the unit reeked of mold. Clearly, it had a SEVERE water problem at some point. We were put off, but the living room we'd just walked into… seemed acceptable. Kind of. Sort of. It was ill-equipped, dirty, water damaged…
And then we walked into our room.
It. Was. Disgusting.
The worst mildew smell you could imagine. And the bed was… dusty? I inspected further and found white dust… I lowered my head to see it up close. Literally that moment, like it was out of a movie, the unit made a crunching noise and a chunk from the ceiling fell onto the bed. I put it together that the ceiling was literally falling apart… Onto our sleeping space. Uh… no!
But I am dumb, and really did not want to fuss with Airbnb like we did in Croatia… well, we still have a pull-out couch in the living room, we can sleep there. It's passable. And then I sat on the couch for a moment and a fabric panel immediately came loose and fell off… I inspected closer and it's velcroed on. I realized this host is literally setting us up to be scammed, and at that moment, I wanted out.
I connected to the Wi-Fi to start my talks with Airbnb – if you don't stay the night, they are more likely to fully refund you. And I got on the phone with a rep who seemed very helpful, but you know – we're only starting the back and forth. She has to contact the host (ugh, no!!) and call back. We should have left and booked a hotel at this point, but decided to rough out the night and continue working with Airbnb.
We browsed the internet in our downtime… In a bit of a panic, I even booked a new Airbnb. A friend warned us that it was in a super super bad neighborhood and still unsure of our current Airbnb status… we almost immediately canceled that… 
And while waiting to be called back and started getting some REALLY REALLY creepy ads. Tons of weird "adult" toys, bondage and strangulation equipment, weird loose powders and chemicals, fake food, silicone body parts – one that stuck out: "teen boy legs". And like, don't get me wrong, I'm aware of what's out there – but these were NOT normal adult toys. 
The ads we were getting and the overall vibe of the place just made me feel SO uncomfortable. I was legitimately becoming afraid for my safety, joked that we might get murdered (but I was only half joking)… but at this point it's 2 am.
We decided to just suffer there for the night, at least we're locked in a unit. But we didn't sleep a wink. The next morning at daylight, not having heard back from Airbnb and no plans ahead, we just left. We filmed ourselves with a live clock with the date and time dropping off the keys, and went to a new neighborhood and sat at a cafe to figure things out.
Then we decided to book a hotel for the night so we at least had somewhere safe to go. Show up to our hotel at check-in… There's no booking. I realized I had not hit book. And they had no more rooms. Just one more thing, right? Now we are frantically booking a new hotel… Literally outside, in the rain, hot spotting from my phone. We walk across the city, in the rain… and it was there I got the runaround again from Airbnb. I'm losing my patience at this point, and yelled at them while on the phone, dragging all our bags, in the rainy streets of Paris. I laugh now at the hilarity of the situation, but I was so mad!
LUCKILY, I was able to get a refund and because prices were now higher and units were booking up like crazy, a small Airbnb credit, BUT only because the host never contacted them back about their chance to "fix" the situation. (Which was not fixable!)
With a refund and a small credit, we make it to our hotel, a little safe haven in this chaos! And we begin seeking a new unit. We found a teeny tiny little top-floor apartment in a nice neighborhood. It's someone's actual flat that she is renting while on a trip.
The following day we walk across the city, stop for crepes on the way to wait for the check-in time, and then finally made it. The home was tiny. TINY! And up a million stairs, but it's super cute and clean! We spent a lot of time exploring our new part of town called Batignolles! It's a quiet residential neighborhood with a lot of pretty good restaurants, pastry shops, etc.
Anyways, I wanted to document this story… Maybe for the laughs later. Maybe to help someone in their own Airbnb horror show. I guess my best advice would be if something similar happens is: Document. Document. Document. Take pictures, get things in writing. Leave a sketchy Airbnb ASAP. Contact Airbnb directly ASAP. Don't bother with sketchy hosts. Just contact Airbnb and get out. Don't stay a night like we did – that was dumb and we just got lucky this sketchy host didn't fight back. Just book a real hotel and leave. It's not worth it. And if you document, contact, and leave the unit properly and for a valid reason – they will help you.
Also, be aware of the fake Airbnb review rings in Paris. I won't go into it, but it is a real problem!
We love and will continue to use Airbnb, but it certainly isn't without flaws!