Wow. Wow. Wow!!! Venice, Italy!
I entirely thought it was going to be just another over-hyped tourist trap, and it is… but this one is rightfully so. Venice easily makes it into one of our top places! From the moment we arrived.
After some running and fumbling around back in Pula, we caught an early morning bus to Italy. The ride was rather unremarkable, with the exception of an older woman who definitely did not speak a word of English, gave us homemade cookies she had brought, and kept yelling "CIAO BELLA" to poke fun at the many typical tourists in Venice.
And then we arrived… and for some reason, I did not realize that Venice does NOT have any roads for cars. So we lugged our bags around the old Venetian streets and bridges, struggling to find our Airbnb until finally, we got in contact with our host who showed us our place!
And it was such a beautiful flat! It was located on the top floor of a historic Venetian building, colorfully and beautifully decorated with old furniture and Venetian glass. Windows overlooked the city and had a perfect view over the canals. There was a town square at the foot of the building, with live music pretty much all day, and a beautiful church just across the way (which we later found played LOUD bells every morning. Hahaha).

The city is so incredibly beautiful; every corner you turn had one picturesque location after the other. We found that we really enjoyed the pedestrian and boat-only city… if you want to get somewhere, it needs to be on foot or by boat! And did you know all of the services are done by boat too? We saw trash boats, ambulance boats, water taxis… it was interesting!!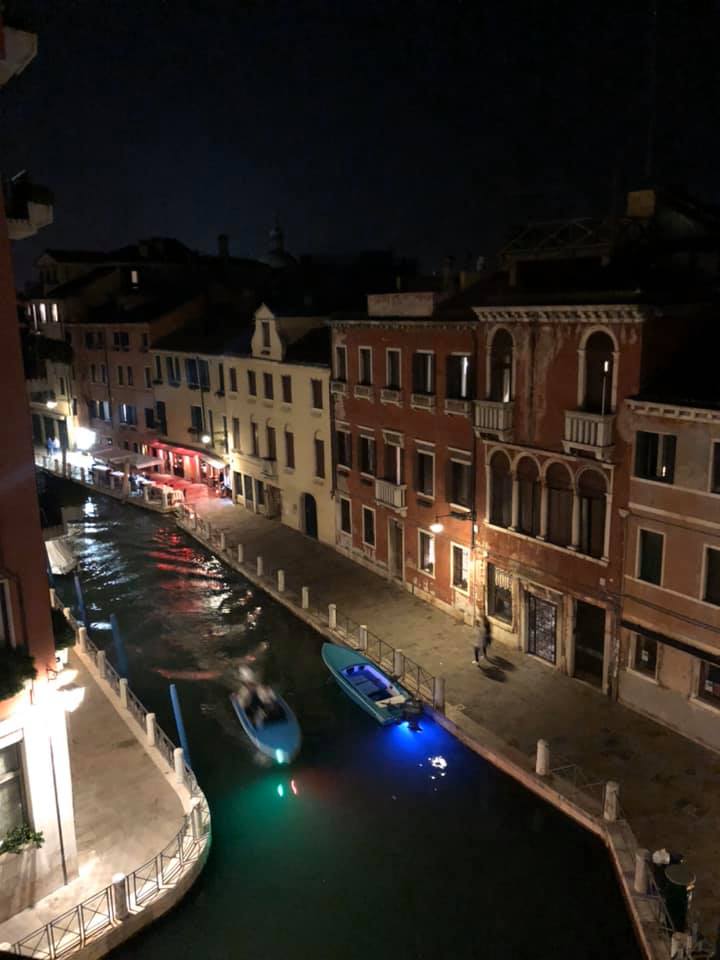 And the city is completely filled with colorful shops, actually great food (which we did not expect!), and friendly people who generally don't seem to mind the tourists.
The first thing we did was take a gondola ride… You know… THE GONDOLA RIDE! We were exhausted from the travel, and I hadn't even brushed my hair, but Alan's mom encouraged us to seize the moment… and it was awesome. Our gondolier even sang for us!
We spent lots of time just getting lost… you could liken the city to an ultra-difficult maze. But it wasn't a bad thing to be wandering around all of the hidden spots! We found countless mask shops, costume stores, souvenirs, beautiful old buildings perched over canals, bridges…
Gosh just so many hidden gems to be found.
While there, we also stumbled on a large farmers market. There, Alan bought 2 lbs each of porcini and chanterelle mushrooms at a farmers market… he still does not quite have the kilos to pounds down hahaha. As a result of that, we ate a TON of mushroom dishes. So many, I was sick of it! We also ate way too much gelato, pasta, and tiramisu for our own good. It was a bit challenging to resist when you had all of those shops basically at your doorstep though.

One of our days there we also made it out to Murano, one of the little sub-islands known for its glass. There we got to see a bunch of glass blowers – which I am obsessed with watching online, so it was even cooler to see in person. They invite you in to just quietly watch! (And maybe buy too!)
At nighttime, the cafes downstairs from our Airbnb had accordion players that made for some nice ambiance, even though they only seemed to know a few songs! I'm sure there are more things I forgot to write about… being nearly 2 weeks late and typing this out quick because I have other stuff to do, but Venice is definitely a must-visit place in my opinion. SO glad I got to see it, and I really think that anyone who hates it just hasn't spent enough time there. I would probably hate it too if I only saw the main plaza!
Next update coming soon!