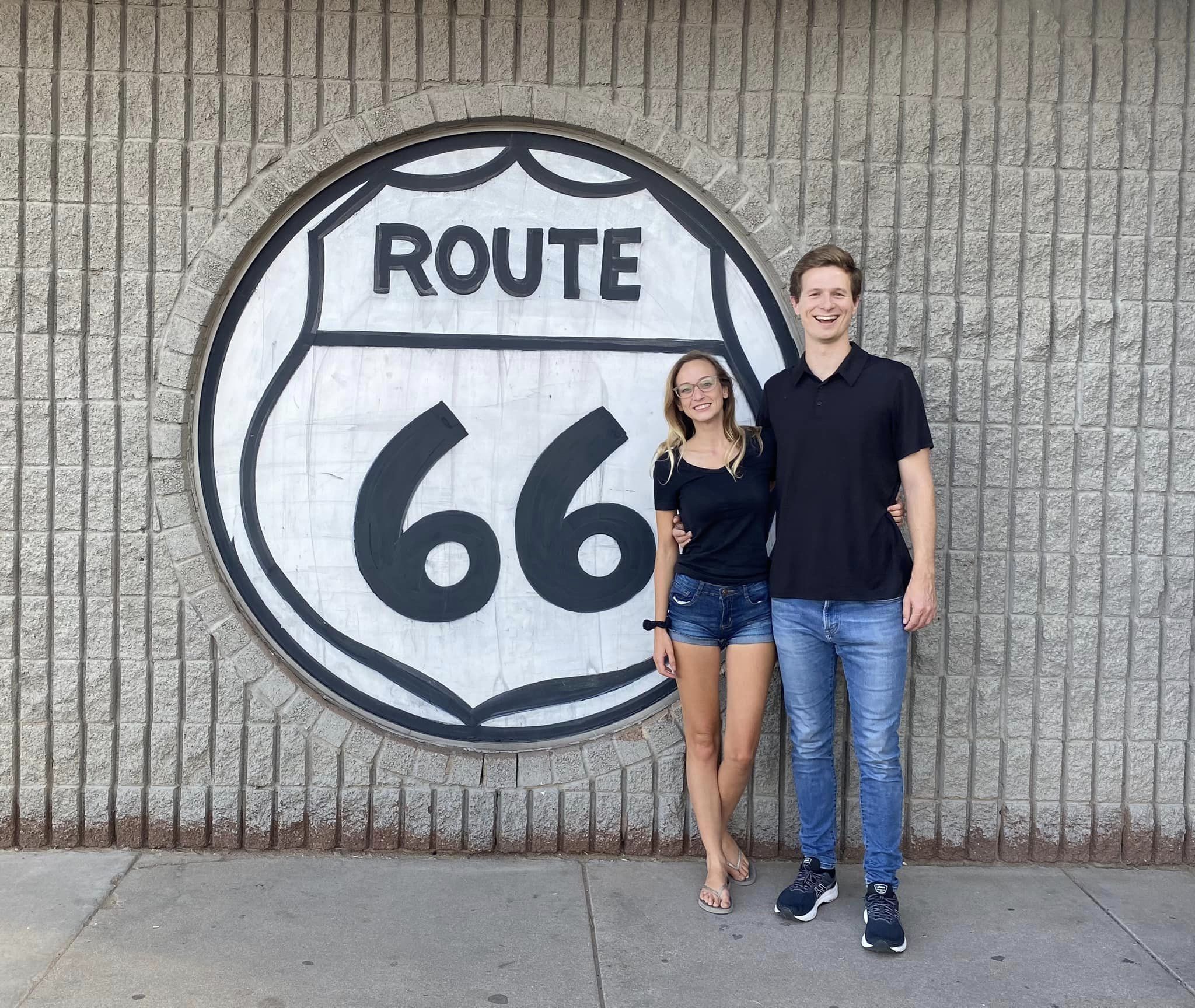 And yes, there was a tornado...
We weren't initially intending on renewing our licenses because we don't drive much outside of the US, but we needed to do so in order to help out more. So, we went on a mission to do that, but because we have not lived in the US for years, it made things complicated! We even had to retake a driving test! hahaha.
One thing led to another, and we ended up taking a trip to Kansas with Alan's sister, who lives there! We decided to join her in Kansas and get to know her better! So, the morning after a party, we drove halfway across the US on the iconic Route 61. We did it quickly, covering CA, AZ, NM, TX, and OK in just two days. (And of course, through tornado warnings!! 😩) The drive was beautiful and definitely inspired me to travel more within the US. One day!!!
And then we got to Kansas, and okay, it gets a reputation… And I honestly don't know why!! It is gorgeous. We love it! At least where we were! We loved the hot, humid summer weather, the greenery, the rain storms that would roll in, and the general chill vibes. We especially loved the fireflies at night; they're magical. ✨ Oh, we liked it so much that we formally moved there! 😉 (Again, it's COMPLICATED, but we're Kansans now! lol)
Anyways, the best part was getting to spend time with and getting to know Alan's sister and her family way better!! 🥰 She is ~15 years older than him, and they didn't get to spend a lot of time together when they were younger, so it meant a lot to be able to actually get to know another close relative. We found out that we all get along awesomely (nieces and nephew included!!!) and very much enjoyed each other's company. We can't wait to visit her again! 😆
 
One thing I didn't love though? The tornado experience. 🌪️ I think that was my worst fear as a California native in Kansas… We were reassured it was rare and they almost never happen! Well, we got lucky, I guess… one day it got quiet, ugly out, the temperature changed, and suddenly we were under a tornado warning. It was a tense few minutes as our phones alerted us; Jen was frantically calling her kids, our niece & nephew, to get them over because they were out/not near basements… they made it, and our nephew said he SAW it on his drive over. 😭 Like dummies, we of course sat around looking out the windows until the action was bad enough that we were like, "Alright, basement time!!" 
So yup.. I'd say we got the full Kansas experience, hiding out in the basement from a tornado. 😂 (I don't think it hit any homes though, not that I know of anyway. 😅)
Anyways, we took it slow for the rest of our time there too. I worked a lot… on our backlog and on some new projects. And by the way, my Youtube "job" (side hustle? passion project? extreme hobby? Small business? Idk what to call it anymore lol) has not grown, but has been stable this entire time regardless of our pause on travel! And even though I can't take them, cool opportunities continue to roll in. It keeps me hopeful I'll be able to continue it one of these days!
I also was painting a lot (or coloring with a 5-year-old 😂) and we went on lots of night walks. We immediately felt integrated into the community because of Alan's sister and got to know some folks… but in the meanwhile, Alan was going bonkers. He's easily bored, and of course, we're in full suburban mode at this point. So he decided to put feelers out for jobs again, thinking it would take weeks to months.
He got one. In four hours. Literally!
Four!
Hours!
I think part of the reason he took such a long break was because he was nervous about being able to get something again… and just like that, he did lol. (He's amazing at what he does! So… I told him so! 😂)
And that weekend we got him a suit, and he immediately was off to a conference the next week. He has enjoyed it so far. It's supposedly remote too, but there has been a lot of travel involved so far. So we'll see if we can hop abroad again when we're ready/able.
And then months later, after finally getting moving, renewing our licenses, and getting our new IDs in hand (therefore not needing our passports handy because they were our only form of ID to be able to fly and stuff), we were finally able to submit our nearly full passports.
This time we ordered the big book! We expedited, and they're saying 7-9 weeks… so we'll see!
And then we went back to California for a brief visit to help out a bit with some things… and just like that, we were off again… this time to the East Coast because of Alan's job!
I mentioned struggling with adjusting to a more settled life in the last post… we were… maybe still are a tad… but I have also valued being able to take the time to slow down, reflect, think more, spend more quality time with Alan, spend more time with as well as get to know more family, and pursue other hobbies and projects! Especially the ones that have been put aside for a while!
Anyways… I'll post more cool stuff in the next post. Just wanted to take the time to remind myself to slow down sometimes – it's not so bad. 🙂