Experiencing a lot of "firsts" here in Merida...
Welcome to Merida, Mexico! Where we visited a local's home for lunch, experienced our first hurricane, tried an entirely new type of cuisine, climbed atop ancient Mayan ruins, and got a little more off the beaten path than usual!
From Playa, we caught a local ADO bus to the capital of Mexico's Yucatan state, Merida! Merida does not get a lot of American tourists, but it does seem to get a lot of local Mexican tourists. It's known for being the safest city in all of Mexico. I'm not sure how true that is, but I can say after visiting that it had a very relaxed and easy-going vibe that I loved!
In Merida, we explored their downtown area and their huge central market… which was intense, to say the least! It was bustling with people, so many foods, and a ton of energy. It was also here in Merida that we discovered Yucatecan food… which Alan doesn't love, but I DO! Smokey meats, sour citrus, earthy pumpkin seeds… UNF!!! I'm honestly a little offended that Alan doesn't like it more because I could eat this every day. Lol. 
Anyways, while in Merida, we got to explore the Uxmal ruins – which are a highly recommended spot in the area and amazingly preserved/restored! And it was here that we started to hear the buzz about an approaching hurricane. It came as a bit of a surprise, I guess we had not been checking the news. (Oops!) So we finished up our day at the ruins and made it back into town by the evening
.
And then we started prepping to be hit by a hurricane. We went to the stores to load up on some supplies and water… waited in crazy long lines because everyone else was doing the same, and then we got back home at nighttime and prepped our building by taking in furniture and stuff. Then we woke up the next day to the craziest cloud-covered skies I had ever seen… they were breezing by so fast and it had not even started to rain yet! And we waited for what was supposed to be the main part of the storm. By the time it hit us, it was only a Category 1, maybe even a tropical storm. We were fortunately staying in what was basically a solid concrete bunker, but the storm itself was rather anticlimactic. The biggest casualty was a large-ish tree branch in the yard. We were totally over-prepared, we didn't even lose power for more than a few seconds, but it was better that way.
It was a bit fun to poke around town afterwards. There were a couple of waterlogged streets, branches all over the road. Other people had the same idea because it was quite crowded after the storm had passed. No serious damage though!
A couple of days after the hurricane, we made a trip out to the Mayapan ruins where you could still climb in and on top of the structures, which is not allowed in many of these sites now! 
 I'm not sure why you still can here, but it is really awesome to actually be able to experience the ruins in a new way. It also had amazingly preserved frescos, sculptures, and stucco reliefs. Some of the frescoes even had the color/paints still intact… just incredible. 
These ruins sites were not as large as Chichen Itza, but they were definitely better preserved and more lax. After Mayapan, we drove even further out to two cenotes – one really deep one which Alan spent hours freediving in and one we were too tired to swim in!
Our guide was so sweet and also invited us to their very local home for lunch… and I mean in the STICKS. 
Miles from civilization. 
Dirt floors. 
No refrigeration (because they had not regained power from the storm). 
Questionable (at best) water supply. 
So we had a conversation in butchered Spanish (they spoke basically 0 English and I'm still very much learning how to speak Spanish lol) while they prepped us a meal of panuchos and salbutes using at least 2-day-old unrefrigerated pig meat from their neighbor's house (the storm took out their fridges), eggs, and a side of lemonade with what was perhaps Mexico's infamous water that just might kill you. 
At this point I'm definitely questioning my life choices… but, who am I to turn down that level of hospitality?! I'm going to die one day anyways, right? Right. So we dug in, and it was actually SO good. Did I get sick after? YUP! But not nearly as bad as I thought I was going to! Honestly, it wasn't much out of the ordinary. I have a pretty sensitive tummy while traveling and get sick a lot. So it was actually not any worse than I had in other parts of MX or a few of the other countries we have visited. Probiotics coming through!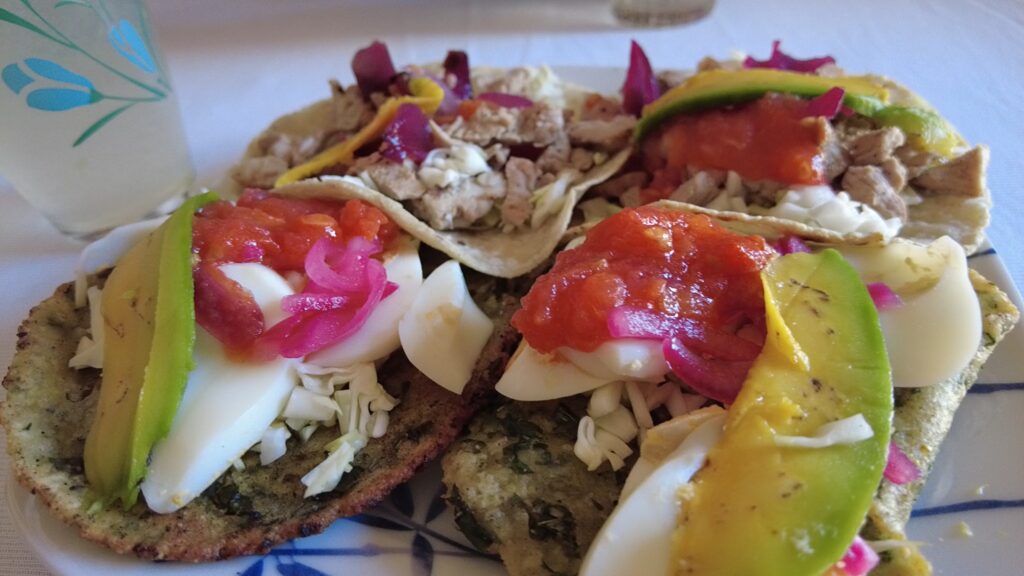 Other than that, we kind of settled into life there. Lots of stuff was closed due to COVID… including large sections of the sites we did visit. We visited a zoo, a super corny Paranormal museum, malls, found a few pretty good restaurants, and really there wasn't much else to Merida (besides a Costco with a cenote in the parking lot! SO COOL! lol)! From here we ended up with a pretty big change in plans and even ended up leaving Merida a week early… Next post coming soon… Probs tomorrow. Maybe later. Idk. lol.