We got to see the Australia Zoo, too!
At this point, we decided to backtrack a little bit and make a stop in Bundaberg so that we could dive Lady Elliot Island on the southern Great Barrier Reef, known for being a healthier reef because its location, which is the southernmost part of the reef, is less prone to the ocean heating problem that damages the reefs.
Bundaberg itself was a tiny town with some of the oldest buildings in the country. From it, we took an absolutely massive ferry to Lady Elliot Island to go scuba diving!! I got incredibly seasick, for the first time ever. Poor Alan had his heart broken when we found out that we didn't have the experience required for the outer reef dives (even though I had emailed them specifically asking about it and they gave me a generic response. 😑) 
BUT we still had a fun time diving the inner reef! We got to see multiple sea turtles, absolutely MASSIVE… and I mean mountain-sized corals, "wobbegong" sharks (which are super cool-looking, I have a pic of a taxidermied one up because I obv didn't want to get close to a shark lol), a snail the size of a decorative pillow, and tons of cool little fish! On the way back, we had some whales swimming along with us, and that was just incredible! We saw so many of them! 
After Bundaberg, we finally made it to Brisbane, where we've been for almost a month! Our first weekend here we visited the Australia Zoo, which is the zoo run by the Irwin (Crocodile Hunter) family. If you haven't seen my Instagram post, they took my photo for their guest wall because I was just getting so cuddly with their kangaroos. Which is awesome because I loved the Crocodile Hunter growing up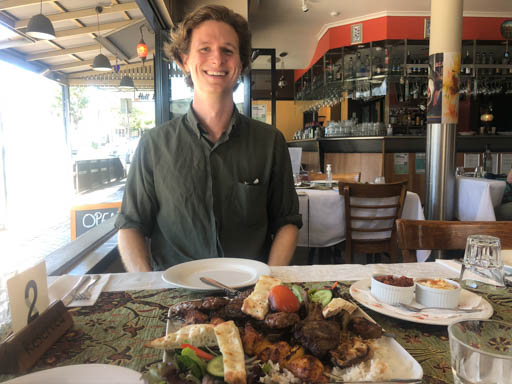 Our stay in Brisbane has been relatively uneventful otherwise because we decided to ditch having a car this month (rentals are expensive!!!)… So far we've had the best food we could find in Australia (including the best pizza we've ever had – sorry, Italy!). We've gone on tons of walks and explored 3 botanic gardens, and have been able to do a little bit of shopping which we haven't gotten to do since Japan! We have found it to be a LOT like San Diego, and there isn't much to it other than a cool city, which we're trying to get out of with Covid popping up again!
Our future plans are still a little uncertain, with state border restrictions that can change at any time. As of right now, we are hoping to make it back to Darwin to do another road trip from there all the way across the country/through the outback to Adelaide in South Australia. Before that, we are planning on making at least a 2-week stop back at Magnetic Island because if Brisbane gets declared a hotspot after we cross a state border, we would be tossed in quarantine.
So, we'd rather wait it out somewhere less Covid-prone… and you know, not spreading a horrible virus would be good too. Lol. Fingers crossed we can make it to the outback, which I'm personally dying to see!