Our festive introduction to the Netherlands!
We caught a quick train to Amsterdam and it is DEFINITELY living up to its hype! This city is absolutely beautiful. Everything is clean; I love the canals and all the greenery interspersed (and I don't mean the coffeeshops 😂), and the Dutch people are ultra-friendly. But we already knew that thanks to our visit to the Netherlands Antilles!

Our Airbnb is amazing, one of our favorites for sure! A beautiful dutch flat just outside of the city center. A few rooms, clean, tons of plants around… and the best part? A balcony with a view over the neighborhood! We got a bit confused by our first experience with European windows though… we definitely did not expect them to FALL towards you!!! hahaha.
We visited the Rijksmuseum on Friday. It was cool to see, but just a few days after seeing the Louvre, I was feeling museumed-out. We've also walked around and explored the city a ton since arriving. Admiring the canals and just enjoying our time in the summer!
On Saturday, we got to see their Pride celebration, and it was INSANE. They hold their parade on the canals by boats, and masses of people gathered to see them on their route which was several miles long. I was fortunate enough to find a spot so my short self could get a good view for a few minutes!
We took a long break after the parade by a side canal. We just relaxed and watched the sunset, enjoyed the views. We loved the simultaneously relaxed and energetic vibe of the city! Everyone was celebrating, partying, and just having a good time.
After the parade, we decided to grab dinner at an amazing Indian restaurant before heading out to continue their other Pride celebrations! They hold multiple large music events that are free to attend; we visited one pretty briefly but decided it was a bit much, especially for Alan, who hates dancing (boo!).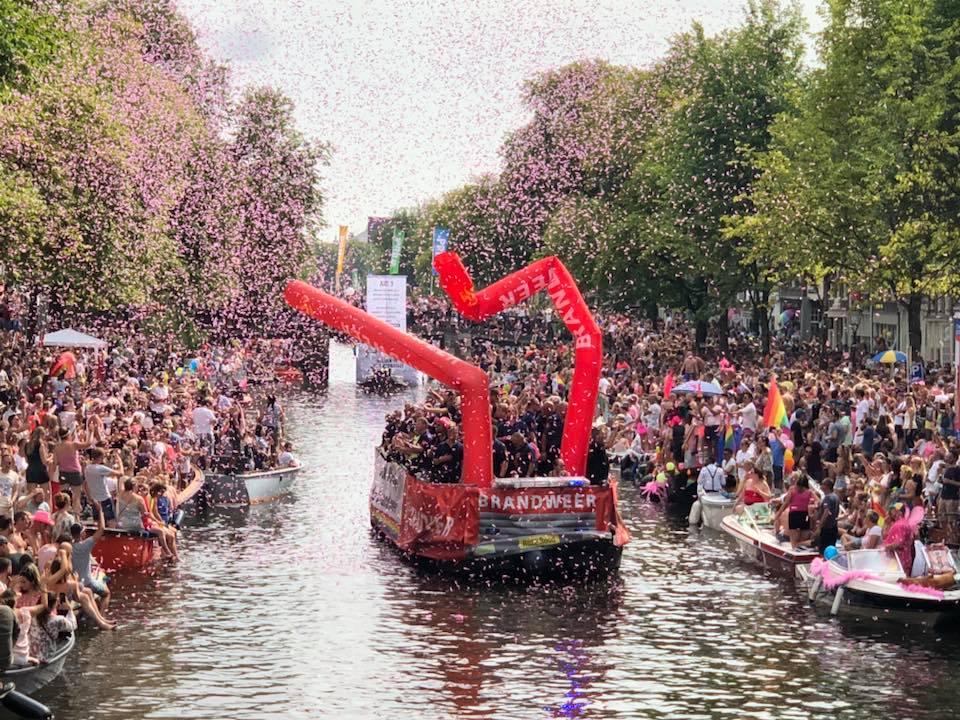 We ended up just exploring and found ourselves in the infamous red light district. People are not kidding about it. I wasn't paying attention, and I looked up, and window after window was lit with a red light and a scantily clad woman in it. 
We decided after walking through the alleyways a few times we should head home because people were starting to get sloppy and we'd at that point been offered to buy cocaine 4 separate times. Despite this… it felt really safe. I think they just like to party!