Visiting 4 major Belgian cities!
We left the Netherlands for Belgium, which was a very annoying travel day. I had our route planned, but then Google went wacky. We were supposed to catch 2 trains and show up… easy! 
Well, Google put us on the wrong train, we had to transfer trains, then the second train got delayed, we sprinted for a bus that we missed by literally a minute, took another train to another bus, and then Google said it was going the wrong direction – it wasn't… but we had gotten off because of that… then walked forever… caught a tram, and then FINALLY made it to Antwerp. No clue what's been up with Google, lol.
Antwerp was a super cool little city. We stayed right in the heart of their old town for 5 nights in a pretty cool Airbnb. Antwerp was very small but had great architecture. While there, we had some phenomenal falafel, enjoyed late-night walks, stumbled into a red-light district on par with Amsterdam's, and rode a wooden escalator. It was fun, but maybe a 1-2 day town though, lol.
While in Antwerp, I made a day trip to Bruges (locally named Brugge) to meet up with a fellow full-time traveler (and video maker!) that we met through social media. Unfortunately, Alan couldn't get the day off (it's tough being the boss man 😢), but we couldn't pass up the opportunity to make travel friends! (It's hard to make friends on the road!!!) Alan and I visited Bruges on our first trip to Belgium though, so he luckily didn't miss too much! 
Had an awesome day exploring with our new friend Wyatt. We enjoyed exploring the town (which was even cuter than I remember!!), trying Belgian waffles, coffee, fries, and beer & making videos lol. Hopefully we'll get to meet up with him and his gf (who also couldn't make it 😢) on our travels again sometime soon!!!
After Antwerp, we caught a train to Ghent… another Belgian town. I loved Ghent!! It was like Bruges but bigger! So many historic buildings, cafes, old architecture, canals… I especially loved the old overgrown Abbey… it was so cool seeing all of the medieval statues, set in a massive castle & courtyard (think tall hedges and vines spilling over on everything) Felt like I was in a Zelda game or something lol. There we found yet another amazing falafel place, tried some traditional Ghent candy, and just enjoyed taking things a bit slower.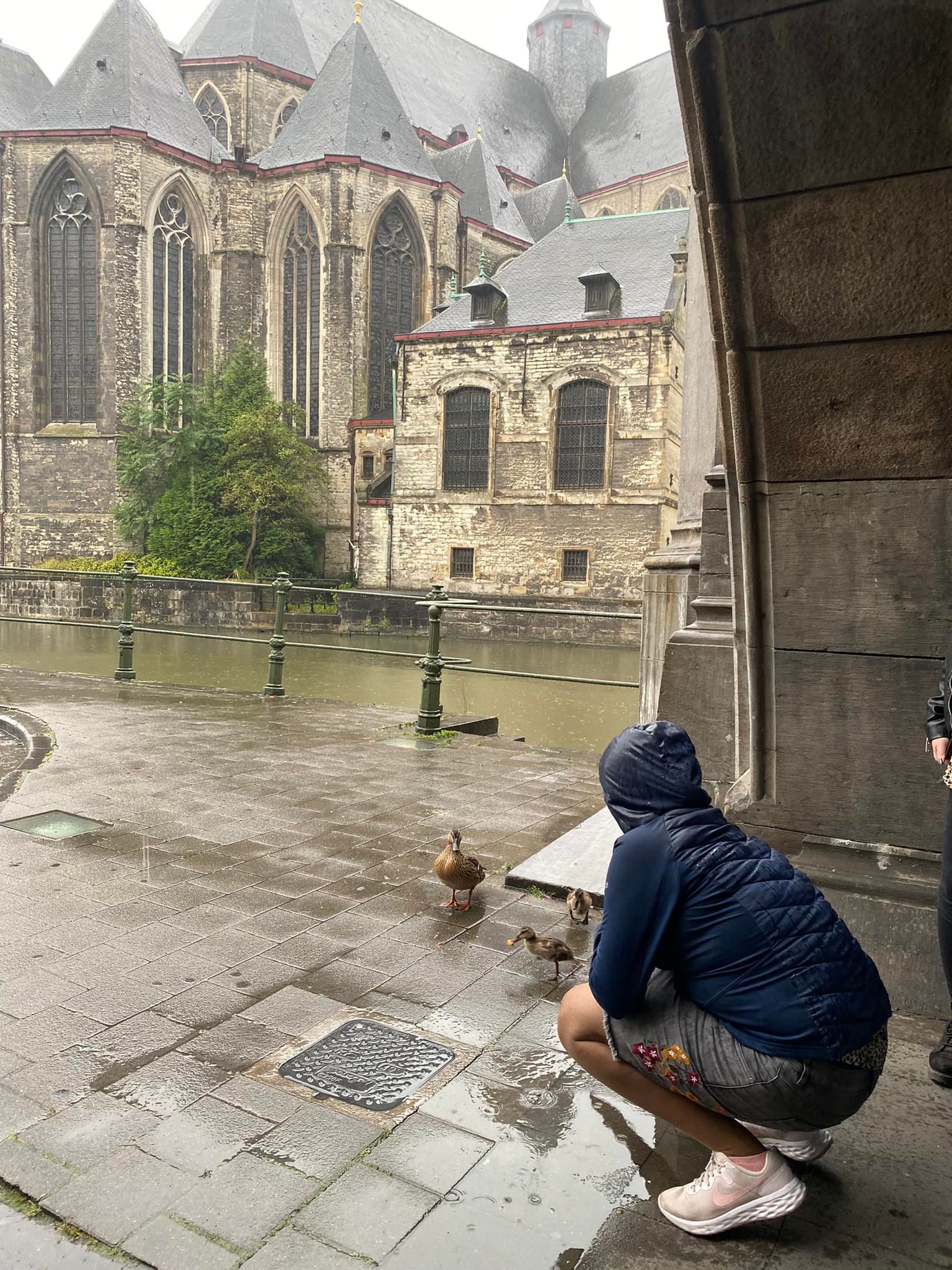 After Ghent, we caught another train to go to Brussels… for our second visit! Loved it the second time even more than the first. The city has great energy, great food, & great sights. It's more of a mix of old and new, compared to the other towns and cities we visited. We only stayed a couple of days but loved our massive Airbnb (we've had to mostly stay in hotels – I'll explain why in a sec 😩), exploring the city, revisiting the sights and reminiscing, trying Belgian chocolate and fries, and discovered an amazing pizza place… which is among the best we've had! Also went to pawn a lens of mine that broke (so sad 😩) and found a HUGE flea market. Biggest I've ever seen. It was nuts lol.
But we ended up in Brussels because our plans changed quite a bit… We flew into Amsterdam from Bonaire (runs direct) thinking we'd pay more in the Netherlands and things would start to settle down and get cheaper as we moved through France, Spain, and eventually Portugal. 
Well, we quickly realized that prices are INSANE here right now. Places that were ~$30-50/night a couple of years ago are now ~$100-200+. Even places out of Western Europe that were $8-20 are $30-40 now…. and in some cities (like Paris) accommodations aren't even available!!! I'm speculating.. but I think it's a combination of things. Inflation is running rampant here too. Tourist accommodation options have decreased a TON (probably tons of people lost travel businesses to Covid), demand seems crazy with everyone wanting to travel after years of being locked up, it's the high season, cities are cracking down on short-term rentals, and not to mention the war causing food and fuel price increases… even the trains and buses cost way more.
So we've been blowing through our budget and I'm currently typing this on our flight to a cheaper area. We found a very inexpensive ticket (from an airport south of Brussels that was a huge pain to get to lol) and decided to just go for it. We're very excited for the next spot, we've never been! But that's for another update!!!
The last 30 days were CRAZY! We've technically visited 12 cities in 4 countries… (have not included our latest yet and one we stayed in for airport transit lol) soooo we're ready to slow it down a bit lol.