Exploring Kaohsiung, Xiaoliuqiu, and Tainan!
Our cancellations and change in plans ended up with us staying in Taiwan a bit longer – until we could get a flight out that wouldn't cost us a kidney. So we decided to cover a few more cities before heading back to the USA for a bit.
First up, Kaohsiung! We had a hectic time getting there from Hualien because a company working with a country's tourism board contacted us to do a pitch… due in a few hours. This was a pretty much a dream opportunity (especially since they also had worked with David Attenborough – I love his documentaries!) so we hustled like madmen and filmed and edited the entire pitch that morning!!! And then never heard back… but dang at least we tried. Lol.
(and tbh it felt amazing to have even been offered that chance to pitch)
Anyways, we made it to Kaohsiung, a fairly large port city known for its artsy scene! And it did not disappoint! We got to see their entire pier dedicated to modern street art, make a day trip out to a small island filled with some VERY interesting art installations, and then went out to their lotus pond (probably their best known spot) to see some very unique and ornate temples and pavilions!
Then we decided to make a weekend out to nearby Xiaoliuqiu island. We heard Taiwan has some cool diving and stuff, so we had to see it for ourselves! Unfortunately, the weather was not the best and the ocean reflected that, but we still had an awesome trip hiking around the ENTIRE island which has a cool little bit of history and some beautiful nature spots to get out into!
And then we stopped in Tainan, Taiwan's oldest city, probably best known for its food. And man, I thought Taiwan had some amazing food already, but this city took it to the next level. So much so that we decided to stay an entire extra day just to eat more of their food. And yes, we found the best XLB we had there! Unfortunately, we only had a short stay and didn't come close to covering all of the best spots!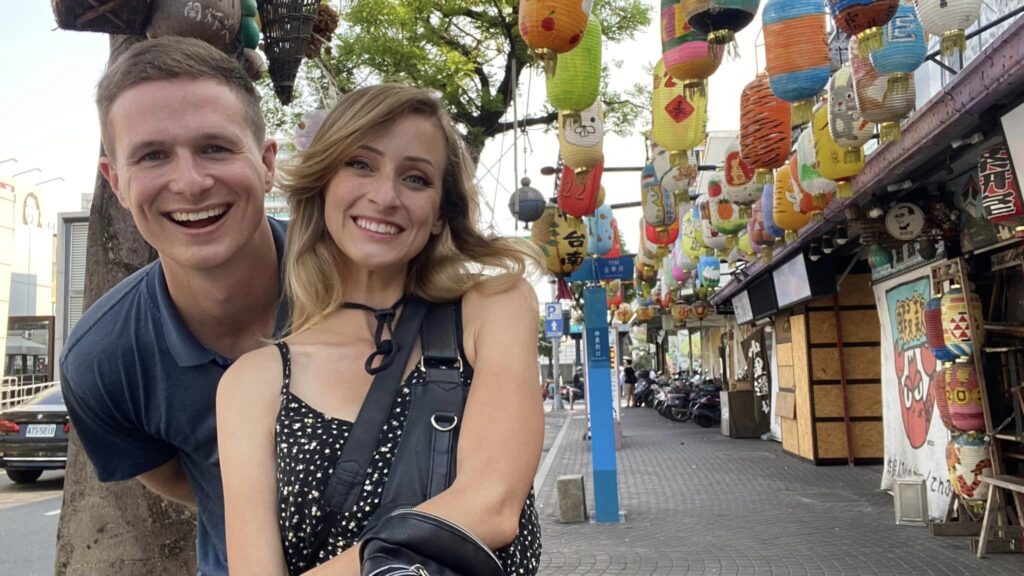 We filmed all of that, so I decided to keep it short! The next part we did not really film though!
So finally, we knew this chapter was coming to a close – Taiwan, Asia, and our life on the road (for now). We were very tired after our simultaneously rewarding and unrewarding hard work over the last few months (but hey, we basically broke even doing the videos even though I'm a dummy who didn't properly do ads!), a bit sad knowing our travels/the unconventional lives we've built would again be on pause, and definitely a bit grief-stricken and anxious with everything going on.
So we just wanted to enjoy and soak in the last few days. And we took that literally because we used some of our accumulated credit card points to book a room at a hot spring resort in our fav area of Taipei for 4 days.
We had our own little (well, actually huge and gaudy) tub in our room that tapped straight into the hot springs. We spent tons of time soaking (and it miraculously cleared up my eczema the entire time, why can't I have this permanently?! ), hiking around the region which was mountainous and so beautiful, savoring some amazing food, and just enjoying each other's company for a few days.
And then after checking out of our hotel, a full day at the Taipei zoo (which conveniently has lockers for your stuff!!), we hopped on our flight back (It was with a pretty cool new airliner!) and we've done a few things since, but that will come next.