Our drive from Melbourne to Adelaide!
A few days ago, we left for a road trip on the Great Ocean Road! This is an "iconic" Australian drive that covers a big chunk of Australia's southern coastline!
We picked up our car in Melbourne and drove through Torquay, visiting Bells Beach – a famous surf beach! It had an amazing break, but unfortunately, we couldn't stay long because I somehow misjudged how far our accommodations were… so we had to rush on down through gorgeous coastline to our next stop, Apollo Bay!
We stayed 6 nights in Apollo Bay, which is an incredibly tiny town that hardly has a real grocery store and a whopping 4 restaurants! (They weren't good, and cooking with no microwave was a struggle lol) BUT we wanted to stay here because it's the closest town to Great Otway National Park!
We didn't get to explore the park as much as we'd wanted due to the weather, but we still managed to do a handful of hikes! On one, we spotted an endangered carnivorous snail, and on another, a patch of California Redwoods that were planted ~100 years ago! The national park was gorgeous and had a couple of areas that managed to avoid any logging ever! Other areas had beach hiking. The ocean here is rough, but surprisingly blue and clear! We did a little tide-pooling, tried to unsuccessfully spot koalas, and enjoyed the coast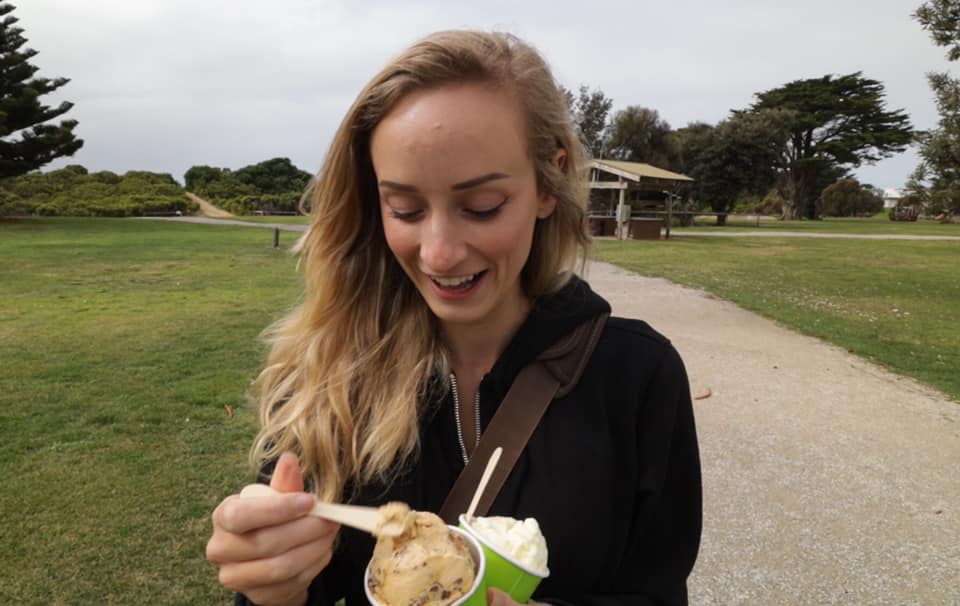 Our last day in Apollo Bay, we went to a lookout over the city, tried "Australia's best ice cream" – including vegemite ice cream (it's not as bad as you'd think lol), and took a random road that ended up being a gorgeous riverside drive!!
Then we stayed in Port Campbell, which is right by Port Campbell National Park! (The highlight spot for most!) While waiting for check-in, we went to lunch at one of their few local cafes; this place is seriously tiny! A street of maybe 20 buildings and no grocery market!!
Our Airbnb was huge and has an alpaca farm on it!!!! 😃 On Saturday, we got totally rained out, but on Sunday, we caught the sunrise at the 12 Apostles (the main attraction, maybe you've seen pics of it!) and made our way around a few other sights! 
There isn't much in Port Campbell other than the coastal drive itself, but we've were enjoying moseying around the park! On our last day there, we we visited the only stop in the National Park that we missed – The Gibson Steps!
The steps run straight down the sea cliffs to the beach in the photos. During low tide you can even walk straight out to that sandstone structure! The beach itself was gorgeous, but we were pretty devastated to find this extremely remote beach absolutely covered in plastic that had washed up from the ocean and dead sea birds, including 5 of those adorable fairy penguins.
That's just what we saw too, we had to head in with the tide on the rise.
We're hoping it was just a natural thing and not from them eating the plastics, but who knows. If any Aussie friends on here know where to report it, I'd happily do so! I didn't pull any photos of the dead birds; it seems a little grim to post here, but they are in the video.
On a happier note: we then moved on to the charming little town of Port Fairy, which technically is the end of the Great Ocean Road, though we'll be continuing our trip out to Adelaide, the capital of South Australia!
In Port Fairy, we first stopped for lunch and I was genuinely impressed with it! It was actually good!!! Outside of the cities, Australian food usually isn't so great 🙈. We finally checked into our Airbnb, which was an entirely forgettable one, and made our way to a nearby beach called "Pea Soup Beach," allegedly because it looks like pea soup? Not sure, but the water was crystal clear and gorgeous! We also enjoyed watching the nearby surfers catch some waves!
We then made our way to the historic Port Fairy wharf, where we spotted ENORMOUS stingrays. The locals were so nonchalant about them, so when we asked about them, it got us into about a 2-hour conversation with an older local Dutch/Australian guy who told us about his story getting set up in Australia as a small farmer and the changes he's seen in the area through the years. 
Oh, and the stingrays hang around because fishermen used to clean their fish in the wharf area, and the stingrays became accustomed to their scraps! He was going to invite us to hang out again, but we had to leave the very next day! 😞 We finished out our evening with poking around the cute town and the parks, the island park we wanted to see was closed though. 😞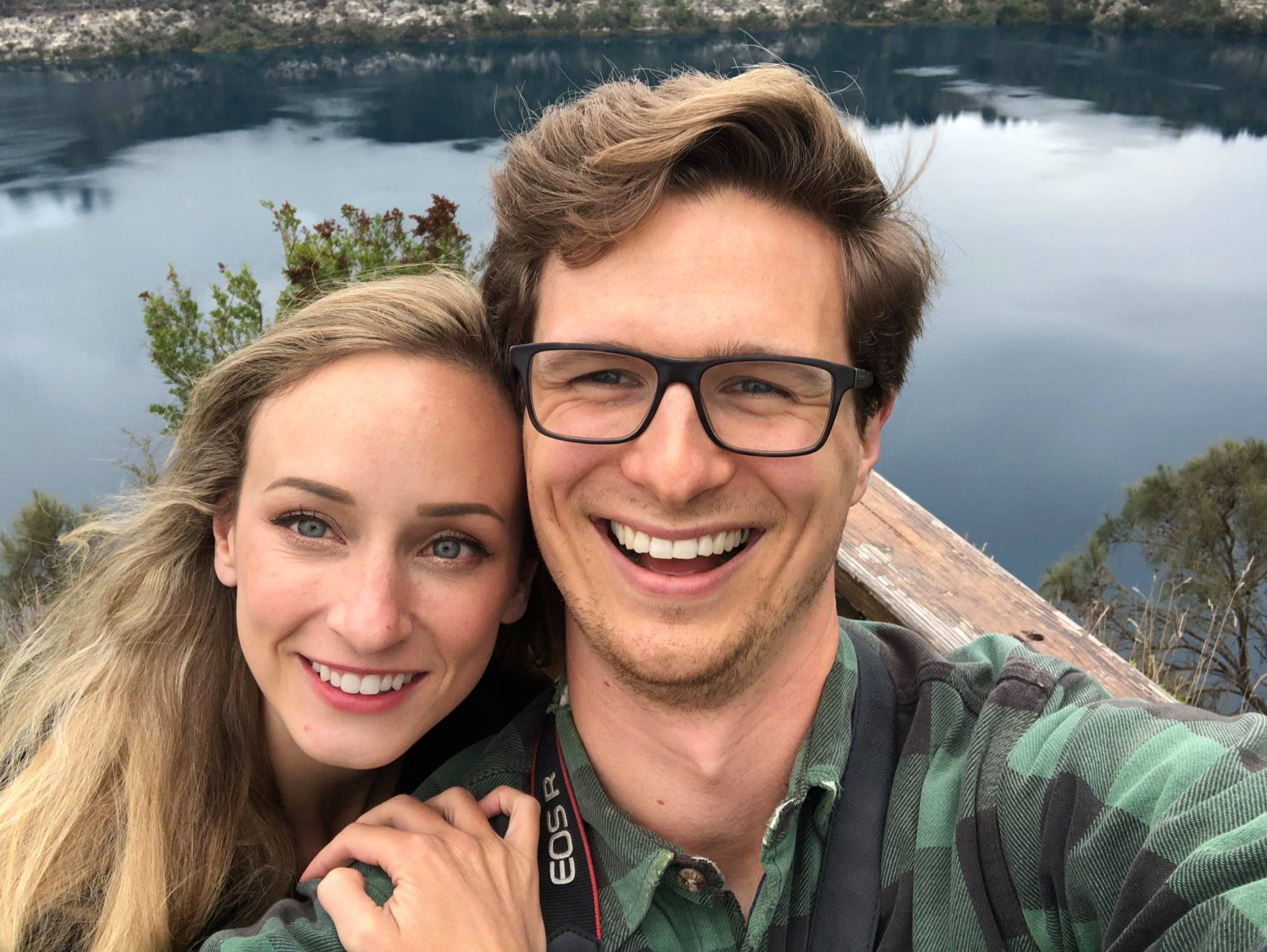 The next morning we started our drive and spotted two wild emus! We tried to stop and get closer, but they were gone by the time we made it out there. Then we crossed the border into South Australia and made our way towards a small city known as Mt. Gambier, which is known for a lake that turns bright cobalt blue in the summertime.
The moment we made it to Mt. Gambier, we realized we got a message that Alan left his phone in Port Fairy… And guess who is a total silly goose and doesn't have ANY of his information backed up? Yep… I had to go back and get it because he couldn't take the time off work. lol. 
Yep, I offered to go grab it and left at ~4 am and made the 5-hour round trip to Port Fairy and back to retrieve his phone. Driving in rural Australia at nighttime is SKETCHY because there are tons of kangaroos and other wildlife, and they love dashing in the road, so I took the way there nice and slow. The drive wasn't too terrible (other than the Australian radio, OMG it's bad lol), and I caught an amazing sunrise and saw some strange critters!
Back in Mt. Gambier, we went to check out the blue lake, which was very blue despite it being late fall and no sunshine out when we visited! After that, we visited their Umpherston Sinkhole, which was a very cool natural feature that had stairs and a cute garden built into it. The sinkhole is also filled with wild bees with massive hives and possums! At daytime, it is a great place to go relax. At nighttime, it is bustling with wild possums that are accustomed to being hand-fed, so we got out early the following day before sunrise to go feed them. Turns out they love cantaloupe seeds! And they were SO cute!!
Near our Airbnb was also a small and free wildlife conservation park, which is basically a park stocked with Australian wildlife roaming free! We loved strolling around at sunrise, watching the kangaroos and wild birds, and searching for koalas and emus… which we could not find! Still, it was a gorgeous park filled with wildlife, native plants, and made for a gorgeous morning by one of the many lakes in Mt. Gambier. This was yet another spot we felt like we didn't spend enough time in… because that day we had to finish our drive to Adelaide.
The rest of the drive wasn't very notable; it was entirely empty except for wine vineyards as far as you could see. They were pretty though, it's late fall here so bright gold and flecks of red filled the entirety of the fields. Then we made it to Adelaide itself, which is the capital of South Australia. It's another fairly small city, but it is oddly busy. Has a very different vibe from the other places we have visited, but we'll see how the coming couple of weeks go!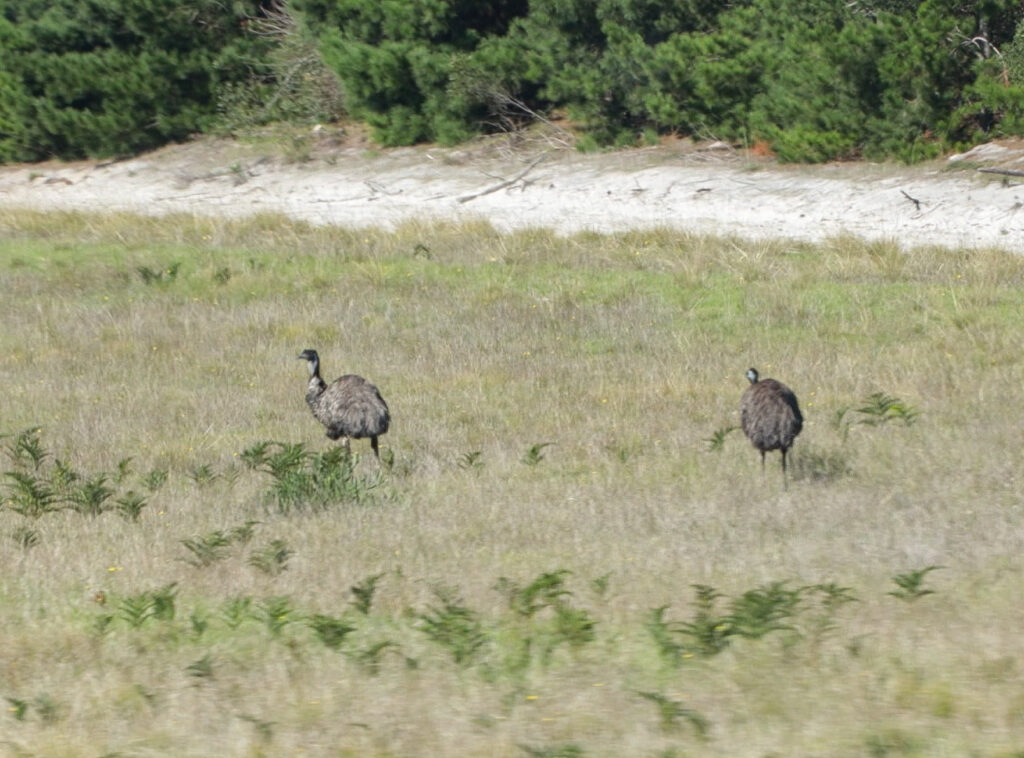 As for our future plans, we have a couple of weeks in Adelaide and we're in a heavy debate about what to do next. Try to stay in Australia even though they are making our visa paperwork harder and harder to attain? (After EVERYTHING, they now want us to go to a police station with a fingerprint technician, get formal fingerprint impressions, send them to the USA FBI for a full background check, and somehow get the paperwork back… in 3 weeks from now lol) Hop to one of the travel bubble countries and wait it out longer? Maybe even start heading towards home? 
Not sure… stay tuned… but I can say this time zone is starting to wreck us and we're feeling ready to stop waking up at midnight. lol