A scary new virus led us to the Land Down Under!
TLDR: We finished our stay in Kuching, Malaysia. We flew to Australia instead of going to Thailand because of the virus. After missing Singapore's airport closure by mere hours… we spent 3 weeks in Darwin and flew to Cairns early. We're "stranded" in Cairns, Australia indefinitely. Watch us get stuck here a year and come back part Aussie 🇦🇺😂🦘
Sorry for my lack of updates! Things have been… weird for everyone lately, but we are okay and healthy! If you want to read about what we've been up to and how we're doing abroad with this virus looming, read on!
Alan and I had been keeping an eye on this virus since it first started in China. I think there was a lot more tension surrounding the virus in Asia (where we'd been) from the get-go. By the time February rolled around, we had already had multiple run-ins with restrictions due to it: filling out documents at airports, getting stopped at customs for temperature checks, narrowly missing quarantines, seeing lots of people in masks and taking precautions, and certain items like masks (which we were using for pollution) selling out. I guess while we knew it was unusual, we didn't realize how bad it was…
While we were in Kuching, we decided to weigh our options. I sat in the living room and asked… "What are we going to do?". We had already made plans and purchased tickets to go to Thailand, but as things progressed, we had doubts that it would be in our best interest to go, given its proximity to China and reputation for poor healthcare outside of the cities. We next considered going to Spain, as they have good healthcare options, especially for foreigners (we use health insurance that offers better/full coverage outside of the United States, by the way). Well, it turned out we got lucky as the flight prices were severely marked up on the day we looked.
So, back to our search. Australia was somewhere we wanted to go but never really considered due to hearing it was "too expensive." After some research and finding out that it's not too expensive, as well as taking into consideration their good healthcare and relatively low population density while a virus grips the world – we bought tickets to go to Australia. And soon. 
The rest of our time in Kuching was fairly uneventful. The rainy season took hold, and the only thing we really did was go to Kubah National Park. It was pouring rain, my poncho had mildewed and was super stinky… and only one trail was open. We did get to see a handful of animals, but that was it. The rest of the time, we spent at home or at tourist shops (the shops there were amazing, by the way, with lots of fantastic artifacts and items that are probably illegal to bring into the states; I did sneak a few cell phone videos of them in my Malaysia album!).
After one more week in Kuching, we hopped on a plane for Darwin, Australia. Darwin is in the northern part of the country and in the middle of nowhere. I think the next closest, notable town is over 1000 miles away. After missing the closure of the Changi Airport in Singapore by just a few hours during a layover… we arrived at about 4am and picked up our rental car! Yup! We rented a car for the first time in our travels, and learning how to drive on the wrong side of the road and on the wrong side of the car was an experience in itself. I'm pretty good at it now, though. 😂

Anyways, we arrived at about 4am and picking up the car was the first thing we did… so it was a good time of day to learn how to drive on the wrong side of the road. Our airbnb check-in was not for several hours so we drove over to their promenade and watched the sunrise over the ocean. We were pretty astonished at the vastness and surprised by all of the massive fruit bats flying around. We hung out for a few more hours at the park, snacking on cheap grocery pastries and waiting until our check in time. Our apartment was beautiful, massive… the biggest one we have stayed in yet and had a great view over the city and ocean.

We drove all over and got to explore vast expanses of nature. Alan describes Australia as feeling like the edge of the world, and I have to agree. In our time there, we saw countless insects, wasps, ended up in a ravine just filled with spiders bigger than your hand and leeches (gross, but on to the cool animals): we also saw countless birds, wallabies, wallaroos, crocodiles, snakes, termite mounds, lizards, turtles, crabs, a possum, a dingo, and more. As nature lovers – we can easily say we love this place!! It's so wild!
During the weekdays, we spent a lot of time at nearby nature reserves like Casuarina. On weekends, we drove to cooler spots like Litchfield National Park, which had an amazing waterfall and so many giant termite mounds, and Fogg Dam, which had a few trails and an awesome driving trail to spot crocodiles!
We also got to visit one of the coolest "Zoos/Wildlife Parks" we've ever seen. The park was basically built into the natural local area, filled with trails that went through actual billabongs, ponds, and forests, and they focused on keeping local, native animals. They even had this giant wallaby/wallaroo forest, and they were super friendly and let you pet them!! 😍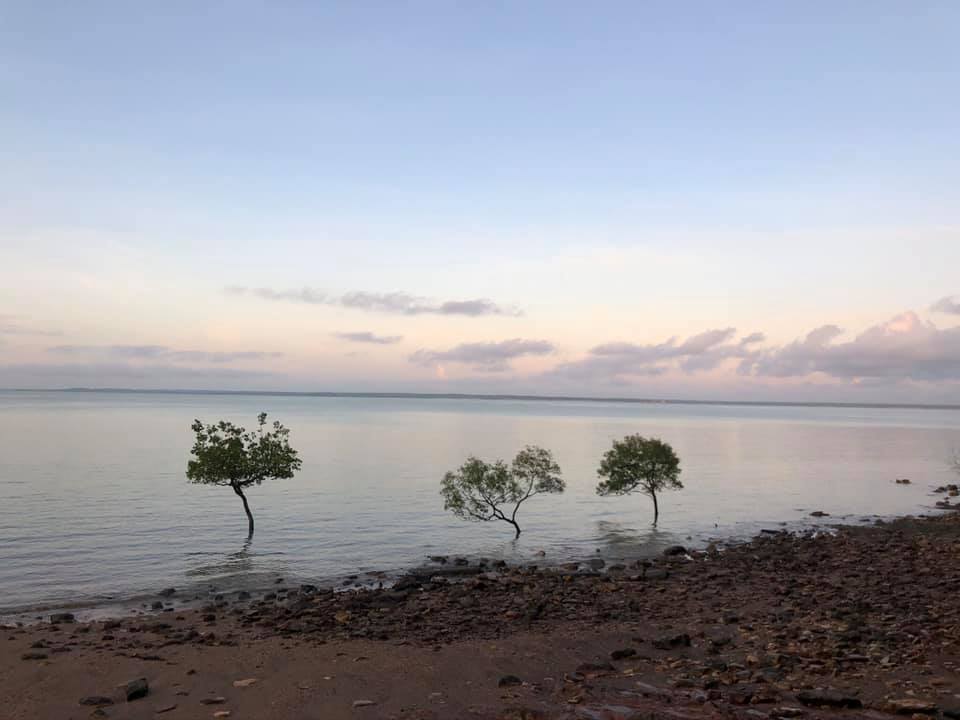 So, after Darwin, our intention was to go to Cairns, which is near the Great Barrier Reef. Although things in this part of Australia have been more calm than in the states, Australia started shutting borders to international travel and between the states (Australia's states). We weren't sure if we would make it to Cairns if we waited for our scheduled flight. So again, we were left debating what to do in a pinch….
We decided to leave Darwin a week early and head to Cairns on the next flight. We quickly packed our bags, bought an extra suitcase and did our own panic buying to fill it with supplies, and then arrived in Cairns, another city in the middle of nowhere, and we plan on hunkering down here indefinitely.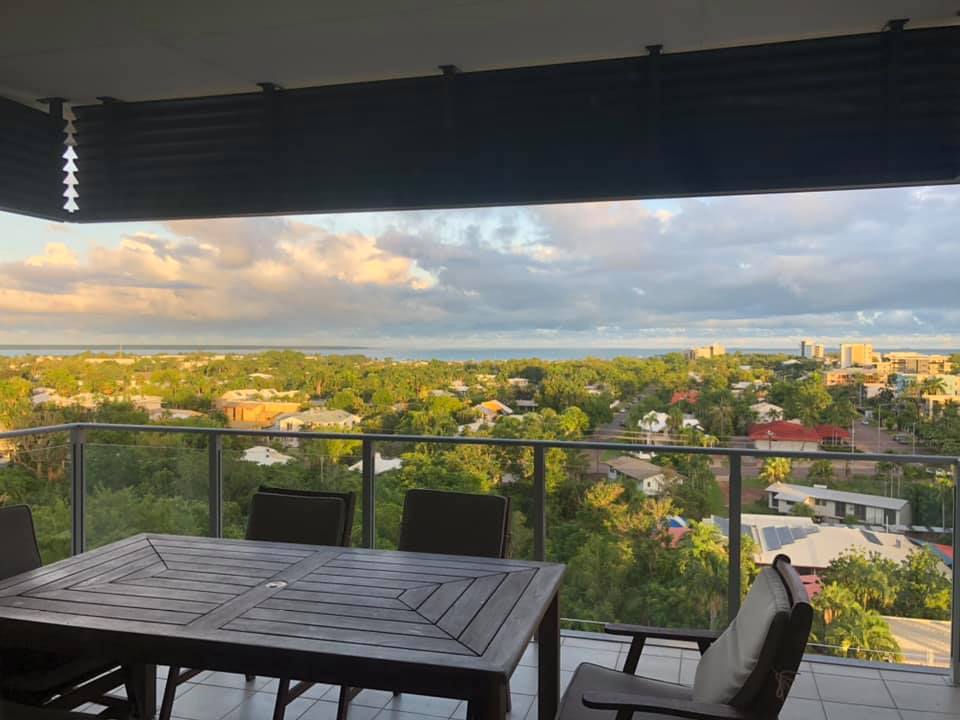 So far, we are car-less, and neither of us likes it as much as Darwin. The city isn't as homey feeling, and it's much busier. Oh, and it also has more cases of the virus that popped up, so we're hoping we didn't make a mistake coming here. On the upside, there's probably better healthcare in this state. Only time will tell, I guess!
I hope each and every one of you is doing okay and staying healthy with this virus! It's scary and really hard to be away from friends and family at this time. We were very tempted to come back when the US gov. basically said, "come home or you're on your own."
But right now also isn't exactly the time to be seeing the friends and family we miss so much either! Not to mention, if we got sick in the states, even with our insurance, the healthcare cost is absurd. So we decided to stick around here and wait it out where the virus hasn't taken hold (at least not yet 😭).
Australia isn't fully locked down where we are yet, but we think it's coming to us really soon. Hopefully, they are cool and are willing to extend our visa if things stay bad, and we also have some hopes that they started lockdowns, restrictions, etc., soon enough to help contain the spread.
Sorry for the SUPER long and yet somehow not descriptive post. A lot has happened, and I've received a ton of questions about how things are with this virus, so I tried to include that.
I'll try to keep you all updated more, so you know if we're alive! Although I doubt if updates will be interesting if we're locked down, lol.