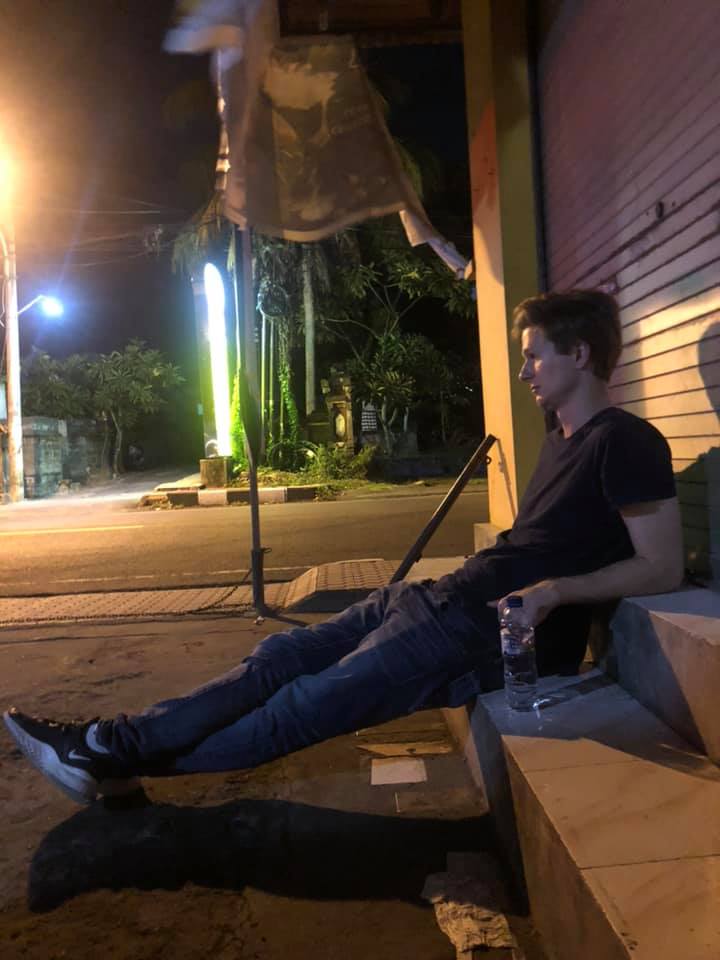 Welcome to Ubud, Bali, Indonesia!
After a couple of delays, nearly fainting at takeoff when the plane just started dropping out of the sky, and 8 hours of nausea and mini heart attacks on the most turbulent flight ever last week, we arrived in Bali, Indonesia!
A rough flight wasn't where the excitement ended though; our driver got us about halfway to where we were staying, and the car suddenly broke down. By dumb luck, we broke down right by a mechanic. 
We all got out and pushed the car and waited… by some second streak of dumb luck, the mechanic had the parts on hand, and it took an hour from the time we broke down until it was fixed to get on the road again.
So only a few hours behind schedule, we finally got to our Airbnb in Ubud, which is the town we decided to stay in. The next morning we were greeted by the nicest staff and the most amazing breakfast, which is included every morning at our Airbnb! We are also located next door to a place with massages for $8/hr. So after a long day of travel and work, we spent the day enjoying great food and relaxing!
The next day we had to set out for a grocery store. Turns out our Airbnb is in a neighborhood specifically designed to make it difficult for tourists to get in and out of without a taxi or scooter. I pretty much refuse to get on a scooter here, and the local "taxi mafia" rips off tourists and threatens people who use the equivalent of Uber here. So we obviously set out to find a walking path which ended up being a huge adventure in itself… we nearly got cornered by a pack of small dogs coming down one path and a large angry dog on another, we trekked through a jungle and found a dirt temple, trekked through more jungle and found another temple, then finally found a taxi that only kind of ripped us off! All in our own neighborhood! After moseying around a market we eventually made it to the store. 😂
It took a few days, but we are finally adjusting to how hectic it is here and finally finding some suitable walking paths. It's a bit rough around the edges, but it is actually a super beautiful and interesting place. It's certainly the most exotic destination we've visited! The air is some hot and sticky mix of tropics, diesel, smoke, and incense. There are tons of decrepit temples, roads, buildings, and statues being swallowed by the jungle. Even the newer buildings all have intricate designs… you'll have to see the photos. I constantly feel like I'm in an Indiana Jones movie set. 😂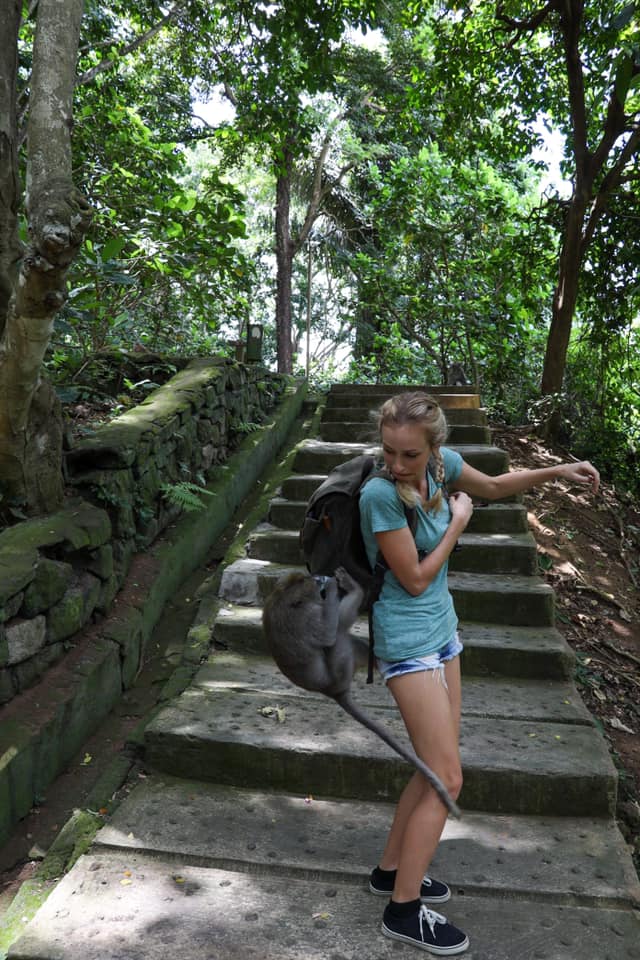 We haven't done much here but explore. We have done the Campuhan ridge walk, which is a nice little hike. We also visited the sacred monkey forest, where one jumped on me and popped my water bottle. 😂🙈
The people are ultra-friendly. The food is among the best we've had. The massages are great and relaxing. The yoga is awesome but challenging in the heat. The markets are hectic and filled with the most beautiful and colorful fabrics, beadwork, wood carvings, spices, fruits, and goods. It's SO difficult to keep myself from buying souvenirs!
This is a long update after a short time, but It's VERY different here, and I had to document! I doubt if the next one will be as long; we're in a pretty small and relaxed town. Enjoy!